Blu-ray Eminem Live From New York City 2005
Descripción:
Blu-Ray Origen USA.
NUEVO / ORIGINAL.
Se retira por Capital Federal (Microcentro) o entrega a domicilio a cargo del comprador.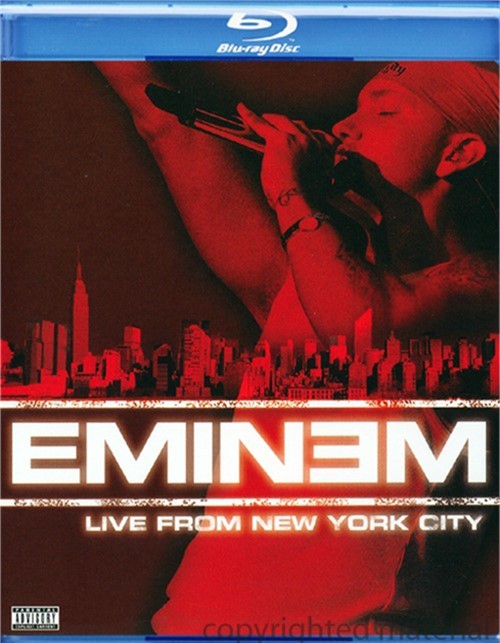 Filmed at Madison Square Garden in 2005, this spectacular show captures the full Eminem live experience. With guest appearances from D12, Obie Trice and Stat Quo, the concert features all Eminem's classic hits including Just Lose It, Cleaning Out My Closet, The Way I Am, Stan, Lose Yourself and many more.
Backstage
Evil Deeds
Mosh
Business
Rain Man
Ass Like That
Puke
Kill You
Like Toy Soldiers
Git Up feat. D12
How Come feat. D12
Rock Star feat. Bizarre of D12
40oz feat. D12
My Band feat. D12
Backstage 2
Stan
The Way I Am
Just Don't Give A Fuck br/> Got Some Teeth feat. Obie Trice
Stay `Bout It (Aqua) feat. Stat Quo
The Set Up feat. Stat Quo
Like Dat feat. Stat Quo & Obie Trice
Cleaning Out My Closet
Mockingbird
Just Lose It
Backstage 3
Features:
Features Not Specified
Video:
Widescreen 1.78:1 Color
Screen Resolution:
1080i
Audio:
ENGLISH: Dolby Digital 5.1
ENGLISH: PCM Stereo
ENGLISH: DTS-HD MA 5.1

Studio: Eagle
Production Year: 2005
Release Date: 10/20/2009

Length: 78 mins
Rating: NR
Packaging: HD Case
Number of Discs: 1
Empire SKU: 1494417
Disc: SS-DL
Item Code: EVBRD33343
UPC Code: 801213334391
CLICKEA AQUI PARA VER MIS OTROS ARTICULOS A LA VENTA
Todos los precios están calculados en 1 pago.